SUNNY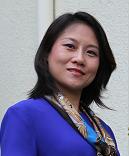 Language: Certified in Mandarin Chinese
Experience:
Entertainment Industry:
Exceptional work experience in entertainment industry, including interpreted on screen for Ellen DeGeneres Show (3 times), Lopez Tonight Show and America's Got Talent Show.
Translated more than 50 Hollywood Movies, including "Mission Impossible II", "Fools Gold, etc.  Worked directly with Creative Artistic Agency and Sony Music.
Provided dubbed and voice-over service in more than 60 TV commercials and films in the past 10 years.
Anchored and hosted English Programs in China – Beijing People's Radio Station from 1993 to 1996.
Chinese Talk Show Host for AM1370 and AM1300 from 1997 to 2003.
Executive Writer and Editor for Chinese magazine – City Magazine from 1997 to 1999.
– M Magazine from 2001 to.2003.
Mandarin

simultaneous

interpreter for Korean "Wonder Girls" World Web World Premier in 3 Languages in May 2010.
Provided

simultaneous

interpretation services to writer and author Amy Tan in May 2010.
Legal  / Court Experience:
Federal Court Approved Interpreter
California Certified Court Interpreter. Actively serving the Superior Courts of Orange County, Riverside County, Los Angeles, and San Bernardino County.
Extensive legal work experience with Private Law Firms.
Provided interpretation services for Law and Justice Departments and Government Agencies, including Federal Public Defender's Office, Criminal courts, Immigration court, Juvenile Court, EDD court, Traffic court, and Bar Association, etc.
Medical / Insurance Work Experience:
Broad range of medical interpretation experience representing hospitals and insurance companies, including Kaiser Permanente, Blue Cross and Blue Shield, Cedar Sinai Medical Center, Garfield Medical Center, and Anthem, etc.
Private/Public Service Industries:
Substantial work experience in

simultaneous

interpretation. Work experience extends from private/public business conferences and penal/seminars to global business summits, including interpreter for Consulate General of People's Republic of China, Service Employees International Union (SEIU), American Association of Museums Annual Meeting and Museum Expo (May 2010), and 2010 China-US Business Summit.
Extensive experience and references on telephonic interpreter, on-site interpreter, and written document translation.  Worked with many service companies including AT & T, Verizon, Southern California Edison, Chase Bank, and Wells Fargo Bank.
Worked extensively with over ten Interpretation and Translation Agencies in Orange County, Riverside, and Los Angeles in the field of legal depositions.
Instructor for Translation and Interpretation Courses in colleges, including UCLA and LA Institute of Translation and Interpretation.
Education and Credentials:
Master of Arts – California Graduate School of Theology (Summa Cum Laude) – La Habra, CA
B.A. Degree Equivalent (English) – Beijing Foreign Language Institute – Beijing, China
A.A. Degree – East Los Angeles College (Summa Cum Laude) – Monterey Park, CA
CA Court Certificate #: 301251
Federal Court Approved Mandarin Interpreter ATA Member#: 251158
MING

Language: Certified in Mandarin Chinese
Experience:
Medicine and Healthcare
-Medical imaging device instructions and manuals:
-GE Healthcare MR 750 3.0T Split Head Coil Operator Manual
-GE Healthcare 3.0T GP Flex Coil Operator Manual
-Medical transplant device instructions and manuals:
-GE Healthcare equipment instructions and urgent medical device software corrections;
-Depuy IFU translation and updates
-Use instructions of VERTEBROPLASTIC® resin products
-Use instructions of Sigma C/R Porocoat Femoral Components in Total
-Knee Replacement systemTotal Knee Replacement system;
-Instructions for use of Autolet® Impression advanced lancing device
produced by Owen Mumford Ltd;
-Instructions for use of GB Powerstar bipolar cable and scissors;
-Instructions for use of Ethicon PROCEED ventral patch
-Medical Training Module:
-Siemens Diagnostics Transplantation Overview Brochure
-Pharmacological and clinical research report:
-Pharmacological and toxicological study report of drug MLF 541 BBM
(Merck)
-Clinical trial report of antimuscarinic agent solifenacin in the treatment of OAB
Mining, Education, & Technical documents
-Chemical regulations : "Regulations concerning the Registration, Evaluation, Authorization and
Restriction of Chemicals" (Reach)for Ministry of Commerce of the People's Republic of China
-TeckComino zinc-air fuel cell& zinc fuel project – iron ore technical
documents
-Furnace technical documents of Tungsten Concentrates for an Australian mining company
-Conference brochure and document translation of 2007 China
-Ferroalloys International Conference Report of Jay Fredericks, Director, Mineral Development, Government
of British Columbia, Ministry of Energy, Mines and Petroleum: British Columbia: Resources for the World
-Seminar document translation for Canada-China Hydrogen Fuel Cell
-Technology Seminar sponsored by Canadian Embassy
-Patent application documents
-Patent application document for umbilical cord clamp
-Method for Production of Propylene and Ethylene Light Olefins Aqueous Lithium-Ion Secondary Batteries
-Project reports
-Assessment report of China Tuberculosis Disease Control Project funded by World Bank loan for Public health Department of Beijing University
-For China Disease Control Center: Matched Case-Control Study on Risk Factors for Human Infection with Avian Influenza A (H5N1) Virus
General Areas: Tourism brochures and websites
-Pitkin City Guides (including Street map • Walks map • Places to visit •Museums • Information)
-Customer feedback survey for Madame Tusuards in London www.merlinentertainments.biz
-Hotel brochures
-Asiarooms User Guide
-School introduction brochure and education materials
-Course introduction of Department of Engineering and Materials Science, Queen Mary, University of London
Science Education in Europe: Critical Reflections – A Report to the Nuffield Foundation from King's College London
-News releases
-Connect magazine published by Scottish Health Council
-Sovereign Housing Association quarterly newsletter
-Company agreements
-Co-Production Agreements
-Business and formal contact letters
-A letter from Environmental Investigation Agency (EIA) to State Food
and Drug Administration
-A letter from a lawyer to the client discussing on property issue
-A complaint letter from a resident to Tung Sing (Orient) Housing Association
-Invitation letter
-Menus for food and wines. Ex. American Airlines FlagshipSM food and wine menus
Education and Credentials:
Peking Union Medical College & Chinese Academy of Medical Science
Bachelor's in Biotechnology and Master's in Pharmacology
a

a
SAM

Language: Certified in Mandarin Chinese
One of the Founders of Abacus Chinese Translation Services
Chinese Patent Translator in Los Angeles (Court Certified Mandarin/English Interpreter #301138)
Court Certified Mandarin Interpreter Certificate
American Translators Association Associate Member Certificate
Experience:
The Eastern Caribbean Supreme Court, British Virgin Islands
July and October, 2009
Interpreter
— Mandarin interpreter for the case Sino-Union (Caribbean) Holding Limited vs. Shangri-la International Development Holding Limited, Mossack Fonseca & Co (BVI) Limited, Rich Victory Investment Limited, the Government of the Commonwealth of Dominica
— Mandarin Interpreter for attorneys (barristers and solicitors),  a former ambassador of a country to China, and others.
Superior Court of California, County of Los Angeles
February 2009 to Present
Mandarin Certified Court Interpreter
— Interpreted for the criminal, traffic, and civil (including small claims) courts of the Los Angeles Superior Court located in Alhambra
United States District Court, Central District of California (Federal Courts, Los Angeles)
February 2009 to Present
Mandarin Court Interpreter
— Interpreted for the criminal courts of the US District Court in Los Angeles
University of California, Los Angeles, Extension Program
April 2008 — January 2010
Instructor,
Courses Taught: Simultaneous Interpretation II, Sight Translation, The Art of Translation
— Translation and interpretation classes in preparation for the California court interpreter certification exam.
LA Institute of Translation and Interpretation
Aug. 2004 – Present
Instructor, Mandarin Translator and Interpreter
— Taught interpretation classes including consecutive interpretation, simultaneous interpretation, sight translation in preparation for California Court Certified Interpreters Exam.
— Translated and interpreted from Mandarin to English and from English to Mandarin for different industries such as legal, entertainment, business, sports, etc.
Los Angeles Chinese Learning Center Aug. 2002 – Present
President
— Personally taught beginner, intermediate, and advanced Chinese language classes to individuals and corporations
— Initiated, managed and expanded Los Angeles Chinese Learning Center, a non-profit organization aimed at promoting cultural exchanges between the United States and China through Chinese language classes and other services.
— Provided consultation services to legal and entertainment firms regarding issues related to Chinese culture.
Los Angeles Immigration Court, Los Angeles, California, USA
Court Mandarin Interpreter
— Interpreted orally for immigration cases.

TRANSLATION AND INTERPRETATION WORKS AND ACTIVITIES
Entertainment Related Translation and Interpretation Experiences in Los Angeles:
Waiting In Beijing December 2008
Premiere in Los Angeles
— Interpretation for the Director and Producer Alan Zhang
Kung Fu Panda August 2008
DVD Post Production
— Translated and consulted for the contents of Kung Fu Panda's DVD post production relating to Chinese zodiacs.
The Mummy: Tomb of the Dragon Emperor March 2008
Script Translation
– Translation verification and translation from English to Ancient Chinese for the scripts.
"The Alps" – IMAX – MacGillivray Freeman Films October 2007
Mandarin Chinese Voice Consultant
— Consulted for the Mandarin voice over of this adventure giant screen film
— Provided translation and interpretation services during the consultation process.
"The Closer" July 2007
Actor/Chinese Consultant
— Played a co-star role in one of the episodes of the TNT show "The Closer".
–Provided Chinese cultural consultations to one of the screenwriters, Mandarin language coaching to its actors and actresses, as well as casting assistance.
Herzog Cowen Entertainment and Chow, Yun-Fat November 2006
Interview Interpreter
— Interpreted for Mr. Chow, Yun-Fat for a Mandarin interview.
Jackie Chan
— Provided Chinese translations of his Mandarin interview (for Quincy Jones) into English for subtitles
Disney Studios September 2006
Mandarin Dialog Trainer
— Trained an actor for a Mandarin sentence in "The Big Day" show.
Westside Casting Studios Feb. 2004
Television Advertisement Interpretation and Consulting
— Interpreted and trained casts of a Fidelity advertisement for a TV promotion targeting Chinese consumers.
— Consulted Chinese cultural issues related to the content and language of the advertisement
Simultaneous Interpretation Experiences (Last updated July 2010)
American Association of Museums Annual Meeting and Museum Expo May 2010
Simultaneous Interpreter
Amy Tan's Speech at AAM May 2010
Simultaneous Interpreter
Provided simultaneous interpretation services to writer and author Amy Tan
Korean "Wonder Girls" World Web World Premier May 2010
Mandarin Simultaneous Interpreter
Sunkist PR Event February 2010
Simultaneous Interpreter
— Interpreted simultaneously for journalists form China for Sunkist's PR Event
SEIU Conference November 2009
Simultaneous Interpreter
– Interpreted simultaneously for Service Employees International Union during their conference in Los Angeles
Milken's Global Conference April 2009
Simultaneous Interpreter
– Interpreted simultaneously for some of the Chinese guests at this annual conference
Simultaneous Interpretation for a Rupert Murdoch Interview of Phoenix Television
Mar. 2004, Fox Studios
— Simultaneous interpretation for an interview between Rupert Murdoch of News Corporation and Changle Liu, CEO of Phoenix Television
Selected Business Related Translation and Interpretation Experiences in Los Angeles and Elsewhere
– Mandarin interpretation for BabyFirst Inc (December 2008)
– Mandarin interpretation for Chinese Delegation from Yangpu District, Shanghai (October 2008)
– Mandarin interpretation and Chinese translation for Chevron (May 2008)
See below for those performed in or before 2007
The Federal Reserve Bank, Los Angeles September 2006
Mandarin Interpreter
— Interpreted for a group of executives from the People's Bank of China
— Interpreted for the tour during their visits to the Federal Reserve Bank in Los Angeles
Immigration Court, Los Angeles October 2005 to 2007
Chinese Translator and Chinese Simultaneous Interpreter
— Provided Mandarin interpretation and Chinese written translation services for the Immigration Court in Los Angeles.
— Chinese simultaneous translation for defendants of the court.
Farmers' Insurance Group May 2004 to 2007
Mandarin Interpreter
— Interpreted for nurse case manager for Mandarin speaking patients in Los Angeles County Hospital, USC University Hospital, Garfield Medical Center and other private clinics and physical therapists
— Translated notes and medical documents as well as workers compensation policy papers to Mandarin speaking patients
Food and Drug Administration Experts, Los Angeles, CA                                      June, 2005
Chinese Interpreter
— Interpreted a presentation by FDA Experts to a group of Chinese pharmaceutical executives
— Translated materials related to FDA regulations on generic drugs from English to Chinese
University of Southern California, Marshall School of Business, Los Angeles, CA
May. 2005
— Interpreted for an Executive Master of Business Administration course on Advertising
— Provided translation services to course materials from English to Chinese.
Legal Related Translation and Interpretation Experiences in Los Angeles
10 Plus Years of Extensive Experience
Language Expertise in Intellectual Property and Complex Litigation
Qualifications:
* California State Certified Court Interpreters by the Judicial Council of California
* Federal Court Approved Interpreters;
* Professional Conference Interpreters;
* Instructors at the UCLA Legal Interpretation and Translation Program;
Satisfied clients: Paul Hastings; Latham & Watkins; Quinn Emanuel; Baker & McKenzie, CBLH, Intellectual Property Office of University of California, Los Angeles, etc.


Education and Credentials:
Universidad Carlos III de Madrid, Getafe (Madrid), Spain Oct. 2000 – Aug. 2001
M.A., Financial Analysis
Courses:
Economics of Organizations; Financial Analysis; Financial Economics; Statistics and Quantitative Methods; Corporate Finance; Econometrics and Time Series Analysis; Financial Institutions; Fixed Income Securities and Derivatives; International Accounting and Finance; Financial Markets and Banking; Insurance Markets; Risk Management
Thesis:
"The Japanese Banking Crisis and Its Policy Responses"
London School of Economics and Political Science, London, UK Sep. 1999 – Jun. 2000
General Course, Economic History
Courses:
The Internationalization of Economic Growth, 1870 to the Present Day; Latin America and the International Economy; Financial Markets, Investment and Economic Development in Britain, Germany and the United States after 1870; Africa and the World Economy
University of California, Berkeley, California, USA Aug. 1997 – Jun. 1999
Bachelor of Arts in Economics
SEMINARS
Pasadena City College, California, USA Aug. 2002 – Aug. 2003
American Bar Association approved paralegal program
Kyu Eikan Japanese Language Learning Center, Beijing, China Sep. 2001 – Feb. 2002
Japanese Languages Courses, beginner level
Universidad Carlos III de Madrid, Getafe (Madrid), Spain Jan. 2001 – Mar. 2001
Certificate
"Doing Business With Latin America"