Spanish Translation and Interpretation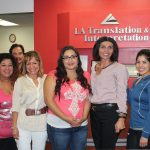 Living in Los Angeles, California means needing Spanish to English or English to Spanish translation sometime in your life.  2010 United States Census results find Latinos to be approximately half (47-49%) of the City's population, growing from 30% in 1990 census.  40% of the population were foreign -born and most foreigners (64.5%) were born in Latin America.  44% of the population in Los Angeles spoke Spanish as mother tongue, 23.2% speak English less than "very well".  Speaking Spanish is a part of your daily life in Los Angeles.
It means that Los Angeles requires good Spanish to English and English to Spanish translation and interpreters.  L.A. Translation and Interpretation, Inc., established in 2003 to facilitate communication among people, has provided top quality certified Spanish to English and English to Spanish translation for the community.  We translate legal, medical, technical, and corporate documents, as well as birth and death, marriage and divorce certificates for immigration purposes.
We have a large pool of qualified interpreters over the phone and on site.
Spanish to English Translation
The LA Institute of Translation and Interpretation can respond effectively and quickly to your online Spanish translation needs. Professional Spanish translators and interpreters who are certified by the State of California in Court, Administrative Hearing, and Medical have had more than 20 years of experience. Each of our team members was selected based on his/her experience, language proficiency, the quality of his/her work and professional credentials. Each one is also tested in his/her language combination and field before assignment. Our Spanish translation team provides professional service in translating from English to Spanish translation and Spanish to English translation for various areas of specialization including:
| | |
| --- | --- |
| Certified Translation for USCIS | E-commerce & Web Content |
| Patents | Corporate affairs |
| Software & Web sites | Media |
| Legal documents | Transcription |
| Advertising & marketing | Employee Manuals |
| Training materials | Medical & Pharmaceutical |
| Mortgage contracts | Real Estate documents |
Our Spanish interpreters and translators provide congenial and professional service, meeting the demand of high quality that only professionals can give.   We are here to guarantee a consistent global solution.
We have Spanish translators and interpreters in Arlington, TX; Atlanta, GA; Austin, TX; Baltimore, MD; Boston, MA; Charlotte, NC; Chicago, IL; Cleveland, OH; Colorado Springs, CO; Columbus, OH; Dallas, TX; Denver, CO; Detroit, MI; El Paso, TX; Fort Worth, TX; Fresno, CA; Houston, TX; Indianapolis, IN; Jacksonville, FL; Kansas City, MO; Las Vegas, NV; Long Beach, CA; Los Angeles, CA; Louisville-Jefferson County, KY; Madison, Wi; Maricopa, AZ;  Memphis, TN; Mesa, AZ; Miami, FL; Milwaukee, WI; Minneapolis, MN; Nashville-Davidson, TN,; New Haven, CT; New York, NY; Newark, NJ; Oakland, CA; Oklahoma City, OK; Orange County, CA; Pembroke Pines, Fl; Portland, OR; Raleigh, NC; Sacramento, CA; San Antonio, TX; San Diego, CA; San Francisco, CA; San Jose, CA; Seattle, WA; Phoenix, AZ; South Pasadena, CA; Tigard, OR; Tucson, AZ; Tulsa, OK; Virginia Beach, VA; Washington D.C.; Barcelona, Spain; Berlin, Germany; Bogota, Colombia; Brasilia, Brazil; Buenos Aires, Argentina; Guayaquil, Ecuador; Göteborg, Sweden; Havana, Cuba; Hong Kong; Lima, Peru; London, England; Madrid, Spain; Manila, Philippines; Mexico City, Mexico; Montevideo, Uruguay; Paris, France; Porto, Portugal; Quebec, Canada; Rome, Italy; Santa Cruz de Tenerife, Spain; Santa Fe, Argentina; Santiago, Chile; Santo Domingo, Dominican Republic; Vienna, Austria; Xochimilco, Mexico and in many more cities all over the world.
For more information on our Spanish translators and interpreters, please click here.
LA Institute of Translation and Interpretation
2975 Wilshire Boulevard, Suite 640
Los Angeles, CA 90010-1141
Other Spanish Translation Pages
Translate Spanish to English Translate English to Spanish Spanish to English translation
English to Spanish translation Spanish to English translator English to Spanish translator
Spanish translator in Los Angeles Spanish translator in New York City Translate Spanish
Articles related to Spanish Translation
Certified Spanish into English Translation of Birth Certificates for USCIS
Mexico business etiquette and Mexico business culture
Spanish Language Facts
Spanish Legal Vocabulary
Spanish speaking people in the U.S.
Ten Must See's in South America
Useful Spanish expressions