Chinese translator and interpreter SUNNY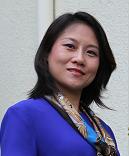 Language: Certified in Mandarin Chinese
Experience:
Entertainment Industry:
Exceptional work experience in entertainment industry, including interpreted on screen for Ellen DeGeneres Show (3 times), Lopez Tonight Show and America's Got Talent Show.
Translated more than 50 Hollywood Movies, including "Mission Impossible II", "Fools Gold, etc.  Worked directly with Creative Artistic Agency and Sony Music.
Provided dubbed and voice-over service in more than 60 TV commercials and films in the past 10 years.
Anchored and hosted English Programs in China – Beijing People's Radio Station from 1993 to 1996.
Chinese Talk Show Host for AM1370 and AM1300 from 1997 to 2003.
Executive Writer and Editor for Chinese magazine – City Magazine from 1997 to 1999.
– M Magazine from 2001 to.2003.
Mandarin simultaneous interpreter for Korean "Wonder Girls" World Web World Premier in 3 Languages in May 2010.
Provided simultaneous interpretation services to writer and author Amy Tan in May 2010.
Legal  / Court Experience:
Federal Court Approved Interpreter
California Certified Court Interpreter. Actively serving the Superior Courts of Orange County, Riverside County, Los Angeles, and San Bernardino County.
Extensive legal work experience with Private Law Firms.
Provided interpretation services for Law and Justice Departments and Government Agencies, including Federal Public Defender's Office, Criminal courts, Immigration court, Juvenile Court, EDD court, Traffic court, and Bar Association, etc.
Medical / Insurance Work Experience:
Broad range of medical interpretation experience representing hospitals and insurance companies, including Kaiser Permanente, Blue Cross and Blue Shield, Cedar Sinai Medical Center, Garfield Medical Center, and Anthem, etc.
Private/Public Service Industries:
Substantial work experience in simultaneous interpretation. Work experience extends from private/public business conferences and penal/seminars to global business summits, including interpreter for Consulate General of People's Republic of China, Service Employees International Union (SEIU), American Association of Museums Annual Meeting and Museum Expo (May 2010), and 2010 China-US Business Summit.
Extensive experience and references on telephonic interpreter, on-site interpreter, and written document translation.  Worked with many service companies including AT & T, Verizon, Southern California Edison, Chase Bank, and Wells Fargo Bank.
Worked extensively with over ten Interpretation and Translation Agencies in Orange County, Riverside, and Los Angeles in the field of legal depositions.
Instructor for Translation and Interpretation Courses in colleges, including UCLA and LA Institute of Translation and Interpretation.
Education and Credentials:
Master of Arts – California Graduate School of Theology (Summa Cum Laude) – La Habra, CA
B.A. Degree Equivalent (English) – Beijing Foreign Language Institute – Beijing, China
A.A. Degree – East Los Angeles College (Summa Cum Laude) – Monterey Park, CA
CA Court Certificate #: 301251
Federal Court Approved Mandarin Interpreter ATA Member#: 251158
We have Chinese translators and interpreters in Los Angeles, CA;Orange County, CA; New York, NY; Chicago, IL; San Francisco, CA; Miami, FL; Atlanta, GA; South Pasadena, CA; Washington D.C.; Dallas, TX, Houston, TX; Las Vegas, NV; Newark, NJ; New Haven, CT; San Diego, CA; Seattle, WA; Phoenix, AZ; San Antonio, TX; San Jose, CA; Jacksonville, FL; Indianapolis, IN; Austin, TX; Columbus, OH; Fort Worth, TX; Charlotte, NC; Detroit, MI; El Paso, TX; Memphis, TN; Baltimore, MD; Boston, MA; Nashville-Davidson, TN,; Denver, CO; Louisville-Jefferson County, KY; Milwaukee, WI; Portland, OR; Oklahoma City, OK; Tucson, AZ; Fresno, CA; Sacramento, CA; Long Beach, CA; Kansas City, MO; Mesa, AZ; Virginia Beach, VA; Colorado Springs, CO; Raleigh, NC; Cleveland, OH; Tulsa, OK; Oakland, CA; Minneapolis, MN; Arlington, TX; Vancouver BC, Canada;Seoul, Korea; Beijing, China; Shanghai, China; Jiangsu, China; Shandong, China; Shenzhen, China; Kunming, China; Taipei, Taiwan, Hong Kong,China; Tokyo, Japan; Singapore, Ho Chi Minh City, Vietnam; Hanoi, Vietnam; Ulan Bator, Mongolia; Manila, Philippines; Jakarta, Indonesia; New Delhi, India; Bagdad, Iraq; Jerusalem, Israel; Casablanca, Morocco; Kiev, Ukraine; Rome, Italy; Berlin, Germany; London, United Kingdom; Mexico City, Mexico; Brasilia, Brazil; Santiago, Chile; Buenos Aires, Argentina; Tunis, Tunisia; Cairo, Egypt; Bogota, Columbia; Dhaka, Bangladesh; Moscow, Russia; Lima, Peru; Sydney Australia; Havana, Cuba; Tirana, Albania; Algiers, Algeria; Yerevan, Armenia; Vienna, Austria; Sofia, Bulgaria, and in many more cities all over the world.
For more information on our Chinese translators and interpreters, please click here.
LA Institute of Translation and Interpretation
2975 Wilshire Boulevard, Suite #640
Los Angeles, CA 90010-1141
Other Chinese Translation Pages
Translate Chinese to English Translate English to Chinese Chinese to English translation
English to Chinese translation Chinese to English translator English to Chinese translator;
Chinese translator in Los Angeles Chinese translator in New York City Translate Chinese;
Chinese Language; Simplified Chinese and Traditional Chinese; Chinese Writing Style; Chinese to English Translation; English to Chinese Translation; Chinese Consecutive Interpretation; Chinese Simultaneous Interpretation; Website Localization; Software Localization; Risks of Machine Translation; Chinese punctuation; Spacing in Chinese;
Articles related to Chinese Translation
Chinese Business Culture for Travelers
Chinese to English Translation of Legal Terms
English to Chinese Expressions
English to Chinese Financial Terms