<Simultaneous Interpreting of President Trump Address to Congress, 2017 into Korean by certified simultaneous interpreter Dr. Junhui Park>
KOREAN SIMULTANEOUS INTERPRETERS OF MULTILINGUAL CONFERENCE
Simultaneous interpreting saves time and promotes better communication as the audience listens to the speaker in their own language simultaneously through a wireless receiver.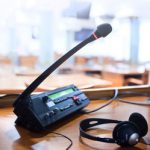 LATI simultaneous interpeting service is in high demand at business meetings and international conferences as well as community meetings.  Where there are more than 20 people who are more comfortable with their own native language than with English, it is a good idea to provide simultaneous interpreting services.  The meetings can proceed quickly because translation is done simultaneously and the attendees can hear through wireless receivers.  Consecutive interpreting would double the time.
LATI provides a comprehensive package.  We have a pool of well trained simultaneous interpreters.  LATI also provides full booth or  soundproof glass tabletop booths, transmitter, interpreter's console, and receivers.  Our equipment can accommodate up to 16 languages and an audience of unlimited size.  LATI provides regular services to UCLA, USC, FBI, and Consulate General of Mexico, among others.  Our simultaneous interpreters work to break down language barriers and promote understanding among people at community meetings, marketing events, and academic seminars.
Our services are available anywhere in the United States, whether in Los Angeles, Texas, Denver, Phoenix, Seattle, Eugene, San Francisco, Chicago, Atlanta, New York, Boston, and Washington D.C.
We can also send our interpreters anywhere in the world, to Beijing, Seoul, Tokyo, Paris, Berlin, Madrid, Mexico City, Moscow, Hanoi, and Dubai, to give a few example.