Korean legal document translation services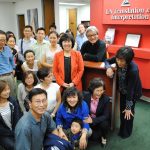 Korean document translation services 
Legal Document Translation Services: Korean to English and English to Korean
L.A. Translation and Interpretation, Inc. is well known for its State of California court certified Korean translators and their expert abilities to translate even the most difficult of legal documents and contracts.  Because of our commitment to accuracy and meeting the tight deadlines, LATI has become one of the leading Korean legal translation services in the world.
Our court certified Korean translators are well-versed and well trained in English and Korean  legal vocabulary, terminologies, syntax, and sentence structure and will provide their utmost talents to see that your legal forms and contracts are translated effectively and concisely.  We assure you that we will meet (and beat!) your expectations when it comes to translating legal documents and contracts to and from Korean !
Our legal translation is verbatim, word for word, to avoid any ambiguity or confusion.  Translation is proofread and edited by two other court certified translators.  LATI has provided millions of words of translation in major court cases involving Samsung Electronics, LG Innotek, Hyundai Automobiles, and Kolon, among many others.   LATI signs NDA and follows strict procedure to maintain confidentiality.
LATI also provides transcription of Korean audio and video tapes into English to be submitted to the court as exhibits.
Our court certified translation is accepted by all the courts in the U.S. and the world.
We have Korean translators and interpreters in Los Angeles, CA; Orange County, CA; Santa Monica, CA; Irvine, CA; San Diego, CA; New York, NY; Chicago, IL; San Francisco, CA; Oakland, CA; Miami, FL; Atlanta, GA; Washington D.C.; Houston, TX; Las Vegas, NV; Newark, NJ; Boston, MA; New Haven, CT;  Seattle, WA;  Vancouver, BC, Canada; Seoul, Korea; Wonju, Korea; Beijing, China; Indonesia, and many more cities all over the world! For more information on our Korean translators and interpreters, please click here.
Other Korean Translation pages
Translate Korean to English Translate English to Korean Korean to English translation
English to Korean translation Korean to English translator English to Korean translator
Korean translator in Los Angeles Korean translator in New York City Translate Korean
Articles related to Korean Translation
English accounting terms into Korean
English to Korean, Korean to English medical terminology
Business negotiation Korean style